Need a getaway from the hustle and bustle of the city? Looking for a vacation rental that is out of the ordinary?
Sometimes you just need a break, in a relaxing place to figure everything out, take some time out to pause and reflect on life. At Hawks Landing a self Discovery Center you can relax, rest, and reflect.
Whether it be for the night, a weekend, or a month-long escape, you can enjoy a wonderfully relaxing vacation on 20 acres of serene countryside in beautiful Simcoe County Forest where your closest neighbours are majestic horses.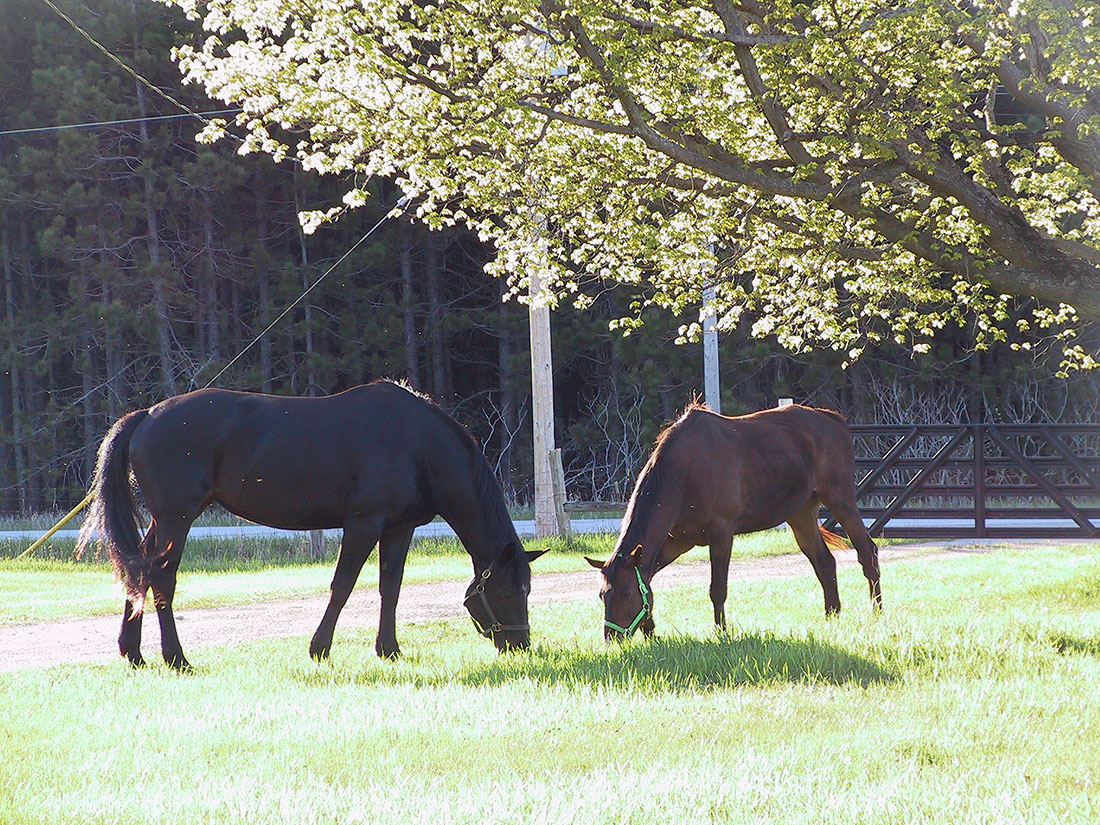 Hawks Landing is a place where you can tap into the true beauty of nature. This farm houses 7 rescue horses that have made Hawks Landing their forever home.
These vacation rentals offer hours of scenic and ever changing views when out for a walk or run. The setting has sacred land and powerful trees and rock formations. A truly life changing experience!
It has been my life long dream to create a safe, stress-free, fun and supportive environment where people of all ages can come to rest, re-focus and figure out who they are, what they really want and how they are going to get it

Bunny Murphy – Owner, Hawks Landing
The farmhouse has 2 rooms to rent inside the farmhouse. One room has a queen size bed with a sofa and the other room has a double bed. One shared bathroom and you will have limited use of the kitchen.
There are also 2 guest cabins available, which provide additional sleeping and relaxation opportunities. (Please note, the cabins do not include washroom facilities, but are close to the farmhouse if nature does call.) Cabins are off the grid, no electricity or running water.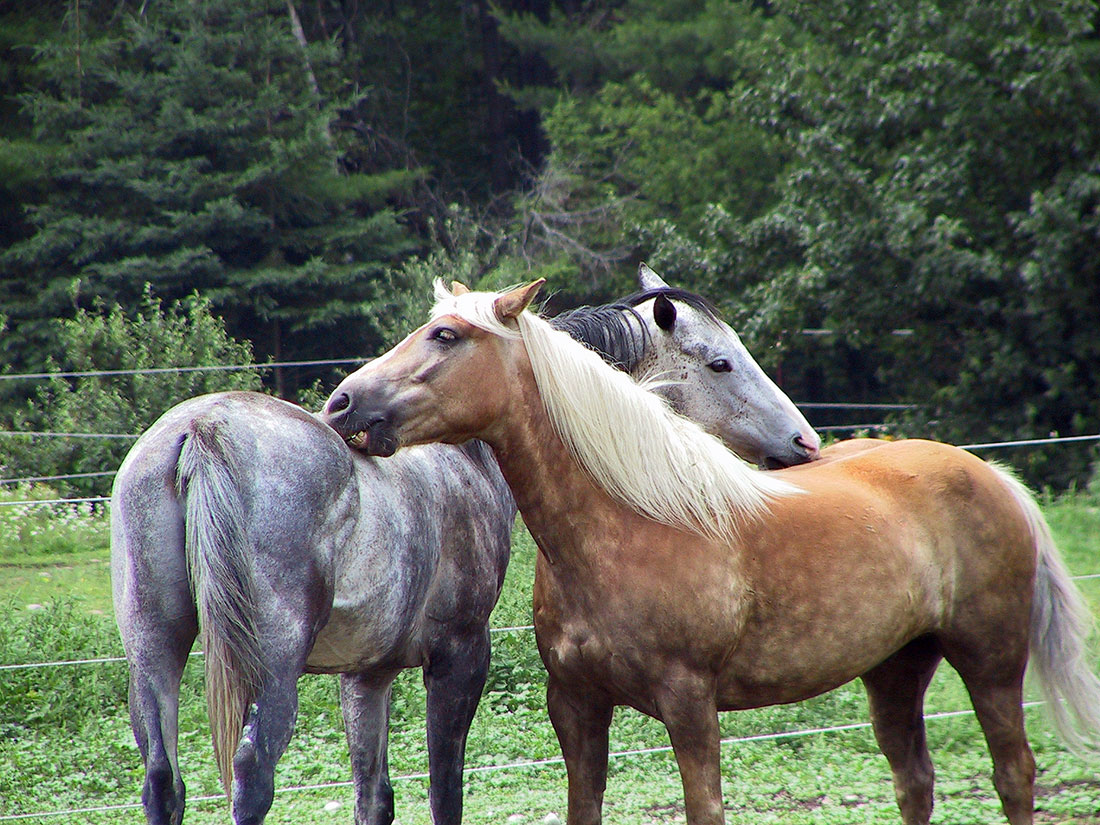 These Hawks Landing Vacation Rentals are conveniently located in Phelpston, Ontario which is 10 minutes to Wasaga Beach and 20 minutes outside of Barrie.
After a great night sleep in the country, you are welcome to gather in the Farmhouse or the Center.
---
Equine-Guided Weekend Retreats
From the moment you arrive the pace of life slows down dramatically. Here you can become part of the magic upon entering the Healing Herd. The healing horses are intuitive and eager to offer you the rare opportunity to help you discover your Authentic Self.
Hawk's Landing only holds 3 – 4 of these magical retreats each year, and space is limited!
The retreat will bring about spiritual awareness and self empowerment.
All our food is vegetarian and is prepared with love and laughter resulting in these positive vibrations flowing into our nourishment.
Lodging is available from shared rooms, private room or pitch a tent.
Retreat Activities Include:
Immerse yourself in nature, meditation, stillness, and healthy eating
Meditation with the Herd
Grounding with tree talk
Lie on a healing table, join the horse healing circles
Create your own art masterpiece, allowing your emotions to guide you.
Meditation walk in the forest
Relax by the sacred fire in the evening
Join the Healing Herd of Equine higher beings. These spiritual retreats offer re-connection, healing, shifting consciousness, as well as raising personal and universal vibration.
Once you are registered you will be sent an itinerary for the weekend and any other information that you will need.
Looking forward in having you come and having a magical experience.
Horses are movers of energy and we are their shakers
---
Farm Vacation Rentals
Looking for a quiet and simple getaway? You can book a vacation rental inside the farmhouse or one of our guest cabins for the night, weekend, or however long you need to stay.
---
Reviews from our Happy Customers
Thank you so much, Bunny! Your home is beautiful and we appreciate how kind and easy going you were regarding our puppies. We had a wonderful time in Canada and we are so pleased we had a wonderful place to rest at night!
Andy and Kelsey
---
Bunny's place is in a very quiet rural area, just off the main road. The farmhouse is spacious, spotless and charming, the resident horses are very friendly and the breakfast Bunny provided was absolutely fabulous. You won't find a better place to stay!
Deb
Bunny is kindness personified! Her place is relaxing and in a serene and quiet locale.
Spending time with Bunny and grooming the horses was a huge bonus. Lots of trail to hike and a wonderful horse meditation is offered on Sunday for an additional cost! I look forward to going up again!
A fantastic getaway from the city!
Jennifer & Dan
---
Farmhouse Queen Studio – $75/night
Cozy up in this lovely Queen Studio bedroom which is large enough to house a queen bed plus a sitting area where you can relax and read a book.
---
Farmhouse Double Bedroom – $75/night
A quaint bedroom tucked inside of a lovely farmhouse, this room features a double bed and is perfect for a weekend getaway.
After a good night sleep you are welcome to join us in the farm house for coffe/tea.
---
Guest Cabin A – $111/night
If you need space for additional guests, you can utilize one of the charming off-the-grid guest cabins located nearby. Three twin beds offer ample room for multiple guests.
Cabin guests are also welcome to utilize the Farmhouse facilities, including the kitchen and bathroom.
---
Guest Cabin B – $111/night
If you need more room for yourself, or are looking for a romantic getaway in the country, the off-the-grid Double Cabin is perfect.
After a good night sleep, you are welcome to join us in the farmhouse for coffee/tea.
---
The answers you seek never come when the mind is busy, they come when the mind is still.

L.Brown
---
Escape to the Extraordinary!
---