Lady Edelweiss a black thoroughbred born on April 20, 1989. At a year old she was put into training for the racetrack. The track was her fate for as long as her health, heart, and legs stood up.
But fate had other plans for this beauty! As she was put into training her owners found that she would not make it as a racehorse…Lady Edelweiss was too slow!
At the age of two Lady went up for sale! It didn't take long to re home this Beauty cause Beautiful she was. Her new owner now put her into training for a hunter/ jumper. And boy did this young thoroughbred love to jump. This was her calling. She could sail over the jumps; she was so eager she would jump higher than she had too. With this attitude it made her a tough horse too ride. She was very excitable and just so darn eager. Her owner loved her dearly, but Lady was just too much horse for her. With great sadness on June 28, 2001 Lady was re homed once again.
And this is how I got to know this beautiful Horse. The young girl that bought her stabled her here at Hawks Landing. After a few years this young girl outgrew Lady and went in search of a younger horse that she could train herself. Lady was up for sale again.
At this time, I had young a girl coming to the farm taking riding lessons. Sadly, at the age of 12 Amanda was diagnosed with cancer. During one of her visits to the Toronto Sick Kids Hospital Amanda heard about about the Children's Wish Foundation. This foundation grants children that have a terminal illness any wish they ask for. Well Amanda's wish was a horse.
So, the hunt began. Amanda and I went horse hunting. We looked at quite a few and even had a few vet checked and unfortunately they didn't pan out. So, the hunt continued. In the meantime, Amanda was getting to know Lady here at the farm and fell in love with her. On Tuesday December 17, 2002 Lady became Amanda's Black Beauty. Amanda was so excited and happy; her dream came true a horse of her very own.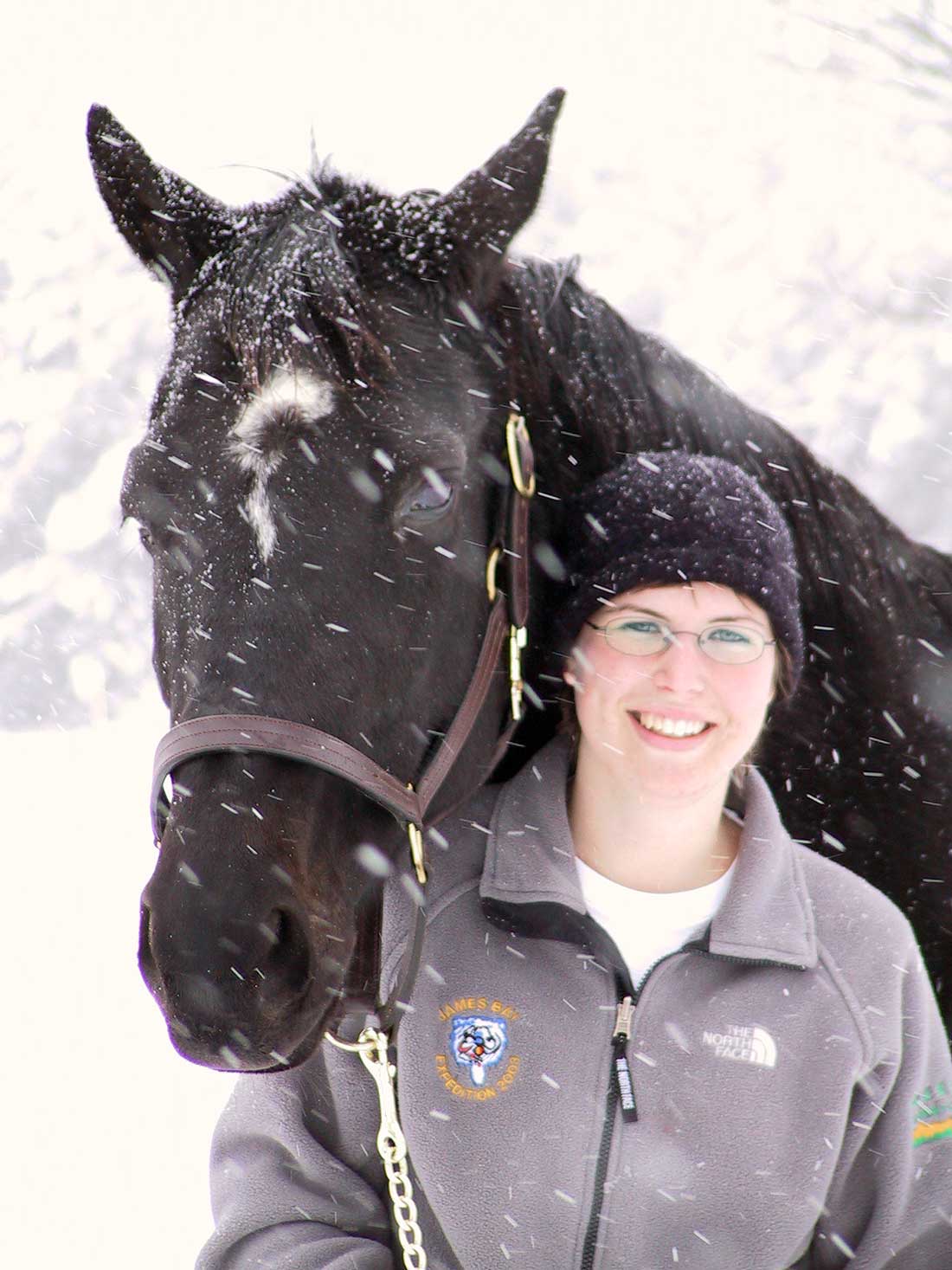 These two had so much fun together. You could see the connection the two had between them when you watched them together. The two of them loved each other. When they would go to competitions, they had fun and really enjoyed themselves.

Amanda spent a lot of her time here at the farm, just grooming and bonding with Lady. She spent all the time making Lady look pretty, as she would say. Lady always came to Amanda when she came to visit, and Amanda taught Lady how to give kisses. Lady was Amanda's confidant all through her sickness. After her chemo, Amanda would come right to the barn…this was her safe haven while she was going through her journey with cancer.
As time went on and having operation after operation, Amanda started to become very weak. She was a fighter, but you could see how it was very hard on her. When she would come to visit, it was always a smile for me and a treat for lady. She would spend so much time with her horse. Lady became her everything.
Amanda had another dream and that was to breed lady so she could have a foal of her own. She picked Rhyd's Sea Quest an Irish Draft Stallion to be the father and did all the leg work getting things set up.
So, on June 8, 2005 I received a call at work from Amanda, Quest for Joules was born, a little filly. Amanda was so excited that she was the first one to see Lady's baby.
As the time went on Amanda's sickness got worse and she became very weak, and she did not come to the farm as often. She would work with her baby when she did come… She loved that little filly. We missed her here and so did Lady.
Amanda gained her Angel Wings August 14, 2006 at the age of 19. One of her last wishes was that Lady Edelweiss and Quest for Joules would stay at Hawks Landing here in Phelpston.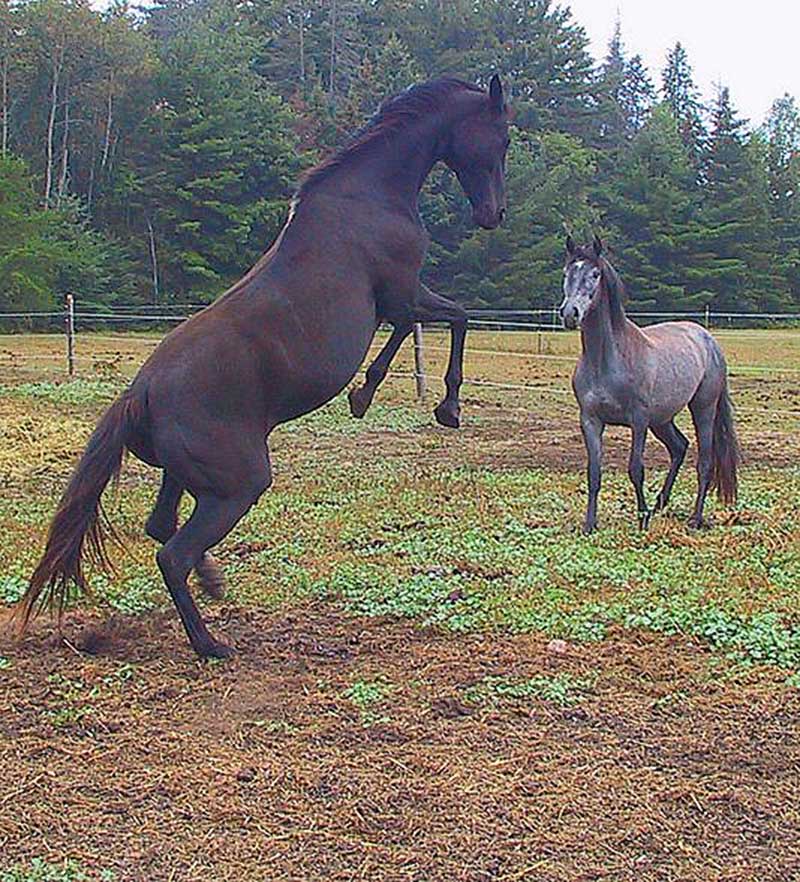 This brings us to today 14 years later and both horses are happy and well.
Lady will be 31 on April 20 and Joules will be 15 on June 8th. It is important for me to honour Amanda's wish and I will try my best to keep the promise. Hawks Landings holds fundraisers to help keep the Horse Sanctuary going for these two beautiful creatures.
---
Get Horse Stories Delivered
Be the first to know about new content with notifications delivered directly to your inbox.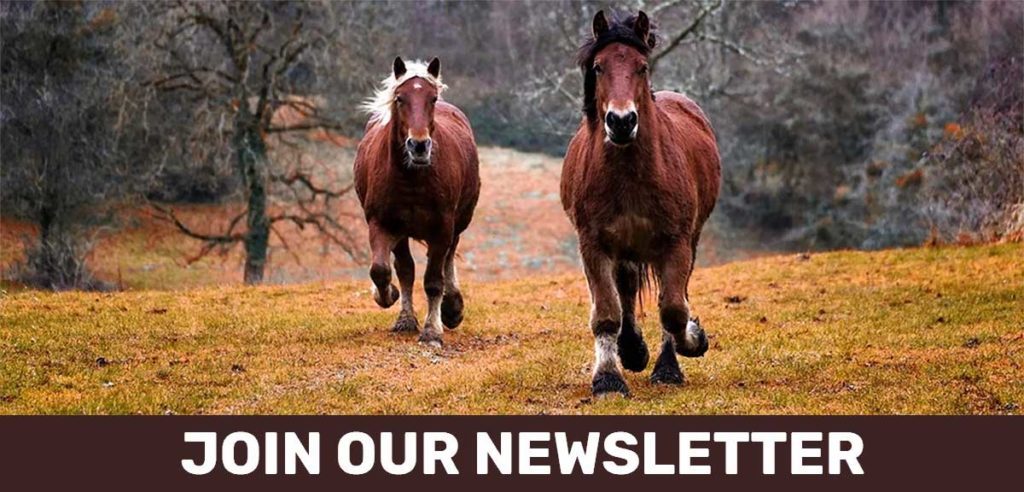 Processing…
Success! You're on the list.
Whoops! There was an error and we couldn't process your subscription. Please reload the page and try again.